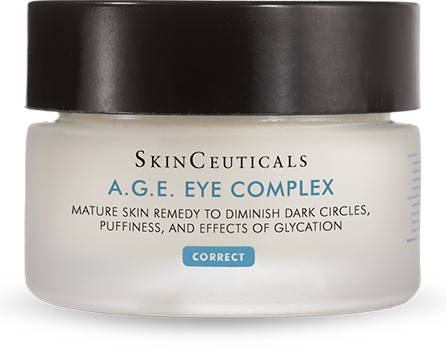 A.G.E. Eye Complex is a three-dimensional anti-wrinkle eye cream that contains a unique combination of ingredients to reduce the appearance of dark circles, puffiness, and crow's feet. Visible signs of aging are most evident around the eyes; A.G.E. Eye Complex is designed to improve the appearance of aging caused by intrinsic factors such as glycation. Its exclusive formulation helps improve the effects of glycation around the delicate eye area while hydrating skin. Reduces the appearance of crow's feet and wrinkles, Improves the look of dark circles and puffiness, Improves the appearance of skin firmness and elasticity, Restores comfort to dry, aging skin, Boosts radiance of tired, dull eyes Learn More
Skin aging is a degenerative process caused by intrinsic, chronological aging, and extrinsic, environmental aging. Both intrinsic and extrinsic factors contribute to visible signs of aging including a loss of skin's radiance and firmness, as well as wrinkles, laxity, and pigmentation. To prevent and correct the appearance of aging skin, SkinCeuticals incorporates active ingredients that exfoliate, reduce the appearance of hyperpigmentation, and stimulate the skin's production of collagen.
SkinCeuticals is the antioxidant authority. SkinCeuticals was the first to discover the exact formulation specifications a topical antioxidant must meet in order to penetrate—and protect—the skin. These parameters have become the gold standard for antioxidant formulation.
Learn More